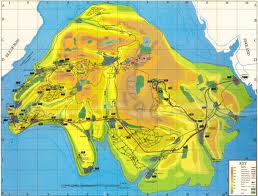 The Island of Sodor is the fictional island that is home to the Sodor Railway, the Narrow Gauge Railway , and the Mainland. It is located between the Isle of Mann and England. Being near England, the Island has seen many famous guests appear, such as the Queen, and Prince WIlliam. Sodor also occasionaly recieves engines from the Other Railway (the British Railway) to help out.
The Language
Edit
Sodor residents primarily speak "Sudric," which is similar to the Gaelic and Manx languages combined. It has begun to die out, due to the fact that Sodor is the only place that speaks it.
The Economy
Edit
The Island gains major profits from oats, barley and turnips. Fishing is also a very important export for the island, because the Tidmouth kipper is very well prized by many. Lead, zinc, and silver is mined there, and the Sodor stone has excellent weather-resisting properties that can be used to build houses and other buildings.
Sodor is the only place where engines can have faces.