The
LB&SCR E2 0-6-0 T
is
Thomas
' basis. Ten were built by Brighton Works from 1913-1916 for the shunting of goods and hauling of short-distance freight trains (for they had insufficient coal capacity for passenger duties). They were withdrawn from service from 1961-1963.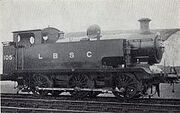 Ad blocker interference detected!
Wikia is a free-to-use site that makes money from advertising. We have a modified experience for viewers using ad blockers

Wikia is not accessible if you've made further modifications. Remove the custom ad blocker rule(s) and the page will load as expected.