Rocket
is a world-famous steam engine designed and built by Robert Stephenson & Co. in 1829. It won the Rainhill Trials, and thus became the engine used for the Liverpool and Manchester Railway. A replica was created in 1979 for demonstrations at the National Railway Museum in York, while the original resides to this day in the Science Museum of London. 
Stephen
 is based on it.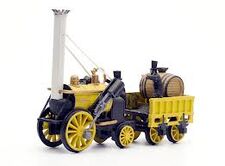 Ad blocker interference detected!
Wikia is a free-to-use site that makes money from advertising. We have a modified experience for viewers using ad blockers

Wikia is not accessible if you've made further modifications. Remove the custom ad blocker rule(s) and the page will load as expected.