Trevor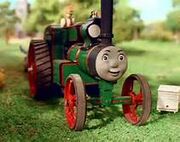 is a wise traction engine who is best friends with
Edward
, who saved him from scrap. He loves children, and always is willing to give them rides. He was bought by the Rev. Charles Laxey and currently works in his orchard.
\AppearencesEdit
Ad blocker interference detected!
Wikia is a free-to-use site that makes money from advertising. We have a modified experience for viewers using ad blockers

Wikia is not accessible if you've made further modifications. Remove the custom ad blocker rule(s) and the page will load as expected.